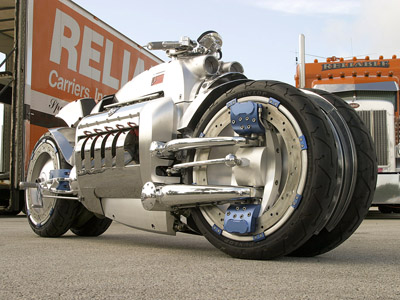 With the recession dragging on, a lot of people are opting to non-op gas-guzzling automobiles and go with their lighter-weight (and less expensive) counterparts: motorcycles.  These two-wheeled transporters can not only split lanes, saving you time in traffic, they can also go further on a lot less fuel, which is great news for those of us trying to save a few bucks.  However, not everyone is interested in bikes solely for their ability to cut back on the price at the pump.  Bikers with money to spend want the fastest, hottest, most exclusive bikes on the market, regardless of the cost – the motorcycles that the rest of us just drool over.  So here are a few motorbikes that should get the saliva flowing faster than Pavlov's bell.
Aprillia RSV 1000R.  Consider this the most expensive bike that your average rider might actually be able to get their hands on.  At $17,999, it's not cheap by any standard, but it's by far the least expensive motorcycle on this list.  Unfortunately, there aren't a lot of bells and whistles for the cost.  Although it looks pretty sweet, is reported to be a smooth ride, and has respectable specs to recommend it, reviewers indicate that buyers could easily get a comparable bike all around at less cost.
Ducati Desmosedici RR.  Anyone who loves street bikes has probably had their eye on a Ducati at one time or another, but when this exclusive bike was unveiled at the Italian MotoGP event in 2006, the 500 units slated for the U.S. market (out of 1,500 total units produced) were snapped up within five hours of going on sale.  This was probably due to the claim that it was the first street-legal motorcycle to adequately replicate a MotoGP racing bike; or perhaps it was the lightweight carbon-fiber body combined with a 170 hp engine that could reach speeds of nearly 190 mph.  Either way, at $72,500 a pop it's not surprising that they offered only a limited number.
Icon Sheene.  Those who watch the races will recognize the iconic name attached to this bike; it was created in honor of British racing legend Barry Sheene, and only 52 were made to commemorate the age at which he passed away.  The bike itself looks something like a cross between a street bike and a cruiser, but each will be built to buyer specifications and will come with a hand-painted playing card on the body courtesy of Mike Fairholme, the artist who designed Sheene's helmets.  With a price tag of $160,000, though, only Sheene's biggest fans are likely to get in line.
Ecosse Moto Works Titanium Series RR Limited Edition.  With only 10 units produced, you might be worried about having a chance to snap up this bike, which actually features a titanium chassis (plus carbon-fiber body and wheels that make it only 440 pounds).  But unless you have $275,000 to drop on a motorcycle you're out of the running anyway.  Too bad, because it comes with a gnarly supercharged engine that can reach speeds over 200 mph.  Oh, and you'll get a custom BRM watch that bears the serial number of your bike, to boot.  Sadly, you'll have to custom-make your own matching motorcycle jackets and helmets.
Dodge Tomahawk V10 Superbike.  If you've always wanted to drive a tank on two wheels, now is your chance – but only if you happen to have $555,000 lying around.  In truth, this bike has four wheels (although at first glance it looks like two that are impossibly wide) and boasts a weight of 1,500 pounds (you'll have to carry some weight of your own if you want to handle this bike on the road).  But with a V10 that offers up close to 400 mph, you might just feel like you're flying (especially if you hit a bump in the road and launch yourself like a human cannonball – even ten leather jackets wouldn't save you from that fallout).